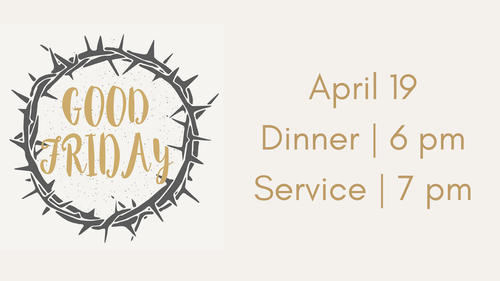 We are offering Chick-fil-A sandwich box meals for ABF classes not choosing to do a potluck dinner prior to the Good Friday Service.
Cost: Regular meal - $6; Gluten Free meal - $8
Dinner will be provided at no cost to participants in the Preschool, Children, and Student Ministries. Preschoolers, children and students will dine in their respective ministry areas.
ADULT/STUDENT MEAL CHOICES:
Sandwich meals: sandwich, chips & cookie
Gluten Free option: grilled chicken with GF bun, lettuce/tomato on the side, chips & fruit
PRESCHOOL & CHILDREN MEAL CHOICES:
Nuggets with fruit, chips & drink
Gluten Free option: grilled chicken nuggets, fruit, chips & drink
Easter Sunday morning programming:
9 am EQUIP Workshops
10:30 am Worship
Plan to stay after church May 5th for our annual Food Truck Sunday.

Trucks from Alzer's BBQ, Burro's Gourmet Grilled Cheese, Coffee & Crisp, and GiGi's Mexican Kitchen will be here. Average meal cost $10.

Fun for the kids, big and small: petting zoo, inflatable slide, gaga ball pit, 9-square in the air, and lawn games.

Wear comfy clothes and bring your lawn chairs and plan to stay the afternoon.
6-week workshops beginning Sunday, March 31 9:00 - 10:15 AM
Check out our camps this summer for your children and youth!
Every Monday a group comes together to pray for Greater Things for our church and community. All are welcome.